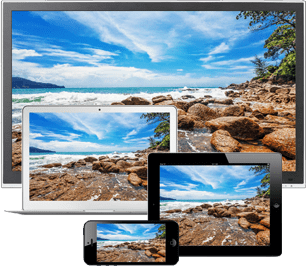 With Wowza Streaming Engine
to Desktops, Mobiles and Tablets!
Chiesa Diretta Streaming
Con semplici passaggi e supporto personalizzato, saremo presenti in ogni fase per garantire che la tua chiesa sia configurata per lo streaming TV in diretta.
Ordina il nostro account demo di Chiesa Diretta Streaming e testa i nostri servizi. O meglio ancora inviarci un'e-mail con le tue esigenze e il tuo numero di telefono e ti chiameremo, ti aiuteremo passo dopo passo a configurare i tuoi servizi religiosi. Inviaci un'e-mail con il tuo numero di telefono qui.
Dal 2009 aiutiamo i servizi di chiesa in streaming live TV  in 57 paesi.
CATTURARE
Cattura il servizio live della tua chiesa con una videocamera o un dispositivo mobile.
COLLEGARE
Collega il tuo video a un computer.
TRASMISSIONE
Trasmetti il ​​tuo video al sito web della tua chiesa (se non ne hai uno possiamo creare un sito web per la tua Chiesa) e le principali piattaforme social, Facebook Live, YouTube, Vimeo e altro.
Lasciati chiamare, clicca qui.
Free Trial RTMP
5 Days / 5 viewers

Ad-free Player

Free Mobile App For Streaming

Stream with any RTMP encoder

Embeddable HTML5 players

Max Bit Rate 640 kbps

10 Gbps Port

5000 MB Traffic

500 Mega of web space

Stream to all endpoints, IPhone, IPad, Android
Starter
Cost-effective for limited viewership
Unlimited Concurrent Viewers

Full 1080p HD Broadcasting

500 GB player bandwidth per month

Public Page for your Stream

Domain/Country Restriction

Embeddable HTML5 Player

Ad Free

M3u8 links for Live channels and VOD

Stream to all endpoints (iPhone, iPad, Android)
Professional
Business & organizational video
Unlimited Concurrent Viewers

Live Stream Recording

Full 1080p HD Broadcasting

2 TB player bandwidth per month

500 GB Video Storage

Public Page for your Stream

Domain/Country Restriction

Embeddable HTML5 Player

Ad Free

M3u8 links for Live channels and VOD

Stream to all endpoints (iPhone, iPad, Android)
Enterprise
Corporate & Institutional Videos
Unlimited Concurrent Viewers

Live Stream Recording

Full 1080p HD Broadcasting

4 TB player bandwidth per month

1 TB Video Storage

Public Page for your Stream

Domain/Country Restriction

Embeddable HTML5 Player

nDVR Playback

Ad Free

M3u8 links for Live channels and VOD

Stream to all endpoints (iPhone, iPad, Android)
Custom
High Volume Needs? Choose Your Own
Contact us for a custom plan tailored to your enterprise.

HLS Low Latency (20 seconds)

Transcoder

Stream Targets to Social Media

nDVR AddOn

Recording Live Stream
RTMP 600
Up to 600 simultaneous viewers

Ad-free Player

Free Mobile App For Streaming

Stream with any RTMP encoder

Embeddable HTML5 players

Max Bit Rate 640 kbps

10 Gbps Port

Unlimited Traffic

200 Giga of web space for videos

Stream to all endpoints, IPhone, IPad, Android
RTMP 50 @ 1024
Up to 50 simultaneous viewers

Ad-free Player

Free Mobile App For Streaming

Stream with any RTMP encoder

Embeddable HTML5 players

Max Bit Rate 1024 kbps

10 Gbps Port

Unlimited Traffic

200 Giga of web space for videos

Stream to all endpoints, IPhone, IPad, Android
RTMP 100 @ 2048
Up to 100 simultaneous viewers

Ad-free Player

Free Mobile App For Streaming

Stream with any RTMP encoder

Embeddable HTML5 players

Max Bitrate 2048 kbps

10 Gbps Port

Unlimited Traffic

20 Giga of web space for videos

Stream to all endpoints, IPhone, IPad, Android
RTMP 300 @ 3072
Up to 300 simultaneous viewers

Ad-free Player

Free Mobile App For Streaming

Stream with any RTMP encoder

Embeddable HTML5 players

Max Bitrate 3072 kbps

10 Gbps Port

Unlimited Traffic

50 Giga of web space for videos

Stream to all endpoints, IPhone, IPad, Android
RTMP 999 @ 1024
Up to 999 simultaneous viewers

Ad-free Player

Free Mobile App For Streaming

Stream with any RTMP encoder

Embeddable HTML5 players

Max Bit Rate 1024 kbps

10 Gbps Port

Unlimited Traffic

500 Giga of web space for videos

Stream to all endpoints, IPhone, IPad, Android