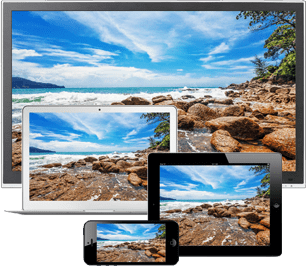 With Wowza Streaming Engine
to Desktops, Mobiles and Tablets!
Church Live Streaming
With easy steps and personalized support, we'll be there every step of the way to ensure your church is set up to live stream your services.
Order our Live Streaming Server demo account and test our services. Or better still email us your requirements and your phone number and we will call you, we will help step by step on setting up your church services. Email us with your phone number here.
Since 2009 we help live streaming church services in 57 countries.
CAPTURE
Capture your church live service with a video camera or mobile device.
CONNECT
Connect your video to a computer.
BROADCAST
Broadcast your video to your church website (if you don't have one we can create a web site for your Church) and major social platforms, Facebook Live, YouTube, Vimeo and more.
Let us call you, click here.
Free Trial RTMP
5 Days / 5 viewers

Ad-free Player

Free Mobile App For Streaming

Stream with any RTMP encoder

Embeddable HTML5 players

Max Bit Rate 640 kbps

10 Gbps Port

5000 MB Traffic

500 Mega of web space

Stream to all endpoints, IPhone, IPad, Android
Starter
Cost-effective for limited viewership
Unlimited Concurrent Viewers

Full 1080p HD Broadcasting

500 GB player bandwidth per month

Public Page for your Stream

Domain/Country Restriction

Embeddable HTML5 Player

Ad Free

M3u8 links for Live channels and VOD

Stream to all endpoints (iPhone, iPad, Android)
Professional
Business & organizational video
Unlimited Concurrent Viewers

Live Stream Recording

Full 1080p HD Broadcasting

2 TB player bandwidth per month

500 GB Video Storage

Public Page for your Stream

Domain/Country Restriction

Embeddable HTML5 Player

Ad Free

M3u8 links for Live channels and VOD

Stream to all endpoints (iPhone, iPad, Android)
Enterprise
Corporate & Institutional Videos
Unlimited Concurrent Viewers

Live Stream Recording

Full 1080p HD Broadcasting

4 TB player bandwidth per month

1 TB Video Storage

Public Page for your Stream

Domain/Country Restriction

Embeddable HTML5 Player

nDVR Playback

Ad Free

M3u8 links for Live channels and VOD

Stream to all endpoints (iPhone, iPad, Android)
Custom
High Volume Needs? Choose Your Own
Contact us for a custom plan tailored to your enterprise.

HLS Low Latency (20 seconds)

Transcoder

Stream Targets to Social Media

nDVR AddOn

Recording Live Stream
RTMP 600
Up to 600 simultaneous viewers

Ad-free Player

Free Mobile App For Streaming

Stream with any RTMP encoder

Embeddable HTML5 players

Max Bit Rate 640 kbps

10 Gbps Port

Unlimited Traffic

200 Giga of web space for videos

Stream to all endpoints, IPhone, IPad, Android
RTMP 50 @ 1024
Up to 50 simultaneous viewers

Ad-free Player

Free Mobile App For Streaming

Stream with any RTMP encoder

Embeddable HTML5 players

Max Bit Rate 1024 kbps

10 Gbps Port

Unlimited Traffic

200 Giga of web space for videos

Stream to all endpoints, IPhone, IPad, Android
RTMP 100 @ 2048
Up to 100 simultaneous viewers

Ad-free Player

Free Mobile App For Streaming

Stream with any RTMP encoder

Embeddable HTML5 players

Max Bitrate 2048 kbps

10 Gbps Port

Unlimited Traffic

20 Giga of web space for videos

Stream to all endpoints, IPhone, IPad, Android
RTMP 300 @ 3072
Up to 300 simultaneous viewers

Ad-free Player

Free Mobile App For Streaming

Stream with any RTMP encoder

Embeddable HTML5 players

Max Bitrate 3072 kbps

10 Gbps Port

Unlimited Traffic

50 Giga of web space for videos

Stream to all endpoints, IPhone, IPad, Android
RTMP 999 @ 1024
Up to 999 simultaneous viewers

Ad-free Player

Free Mobile App For Streaming

Stream with any RTMP encoder

Embeddable HTML5 players

Max Bit Rate 1024 kbps

10 Gbps Port

Unlimited Traffic

500 Giga of web space for videos

Stream to all endpoints, IPhone, IPad, Android