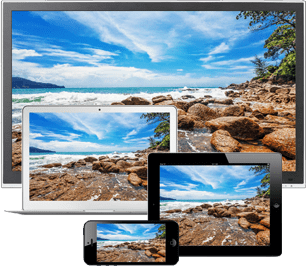 With Wowza Streaming Engine
to Desktops, Mobiles and Tablets!
Python Hosting
Python is the Future. As of now Python is among the top 5 programing languages in the world. From NASA to Google to Wikipedia, to Facebook to Instagram, from your smartphone to High School students nearly everywhere in the world.
Python is easy to learn and to use. Its functions can be carried out with simpler commands and less text than most competing languages. It is based in English, it is faster because it needs less code, and because it has thousands of libraries and modules which enables you to add functionality to the Python applications without writing additional code. For instance, while writing a web application in Python, you can use specific modules to implement scientific computing, image processing, data processing, machine learning, deep learning, anything you can think about then it can be done with Python.

At Hosting Marketers we are among Python's legion of fans – our Customers find it relatively easy to pick up; it has a countless, ever-expanding list of applications and (perhaps most importantly) it's probably the hottest language in the ICT world right now.
See below for some of our packages offering Python Hosting.
Video 1
Disk Space 5 Giga

File Transfer 500 GB
Red5 no
FFmpeg yes (latest)
Python yes (2.7 >> 3.7)
Node.js yes
Ruby yes
Git, CVS, Subversion
Cpanel/Softaculous
FREE SSL Certificates For Life
Unlimited Domains/Emails/Databases
CloudFlare + Railguns
LiteSpeed + LSCache
CloudLinux + PHP Selector (PHP 5.6 >> 7.3)
Video 2
Disk Space 10 Giga

File Transfer 1000 GB
Red5 yes (35 viewers allowed)
FFmpeg yes (latest)
Python yes (2.7 >> 3.7)
Node.js yes
Ruby yes
Git, CVS, Subversion
Cpanel/Softaculous
FREE SSL Certificates For Life
Unlimited Domains/Emails/Databases
CloudFlare + Railguns
LiteSpeed + LSCache
CloudLinux + PHP Selector (PHP 5.6 >> 7.3)
Video 3
Disk Space 20 Giga

File Transfer 2000 GB
Red5 yes (50 viewers allowed)
FFmpeg yes (latest)
Python yes (2.7 >> 3.7)
Node.js yes
Ruby yes
Git, CVS, Subversion
Cpanel/Softaculous
FREE SSL Certificates For Life
Unlimited Domains/Emails/Databases
CloudFlare + Railguns
LiteSpeed + LSCache
CloudLinux + PHP Selector (PHP 5.6 >> 7.3)
Video 4
Disk Space 30 Giga

File Transfer 3000 GB
Red5 yes (75 viewers allowed)
FFmpeg yes (latest)
Python yes (2.7 >> 3.7)
Node.js yes
Ruby yes
Git, CVS, Subversion
Cpanel/Softaculous
FREE SSL Certificates For Life
Unlimited Domains/Emails/Databases
CloudFlare + Railguns
LiteSpeed + LSCache
CloudLinux + PHP Selector (PHP 5.6 >> 7.3)
Video 5
Disk Space 40 Giga

File Transfer 3000 GB
Red5 yes (90 viewers allowed)
FFmpeg yes (latest)
Python yes (2.7 >> 3.7)
Node.js yes
Ruby yes
Git, CVS, Subversion
Cpanel/Softaculous
FREE SSL Certificates For Life
Unlimited Domains/Emails/Databases
CloudFlare + Railguns
LiteSpeed + LSCache
CloudLinux + PHP Selector (PHP 5.6 >> 7.3)